California Climate Insurance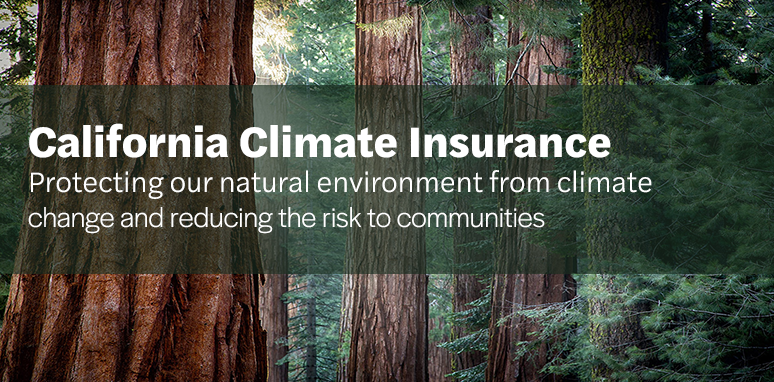 Commissioner Ricardo Lara has appointed the nation's first Deputy Insurance Commissioner of Climate and Sustainability in the United States as California once again leads the nation by working with environmental and industry leaders to find innovative solutions to the risks posed by climate change. Our new Climate and Sustainability Office will address the threat of climate change by working with climate experts, consumer groups and the insurance industry, and California and international leaders. 
---
With California communities facing increasing threats from increasingly exposed to climate change-related threats, Insurance Commissioner Ricardo Lara wrote the nation's first climate insurance law to protect consumers in the years ahead.
Senate Bill 30 (Chapter 614, Statutes of 2018) established a working group of environmental advocates, researchers, and insurance experts making recommendations for policies to reduce the costs from wildfires, extreme heat, and flooding. The California Climate Insurance Working Group published a report in 2021 titled "Protecting Communities, Preserving Nature, and Building Resiliency; How First-of-Its-Kind Climate Insurance Will Help Combat the Costs of Wildfires, Extreme Heat, and Floods."
---
CDI Engages with Universities to Build New Research Workstreams
---
Key Initiatives
---
Future Events
Fall 2023 meeting(s) to be announced
---
News
---
Legislation
---
Climate Insurance Working Group Items
Written Public Comment
For written public comment, please email ClimateChange@insurance.ca.gov.
June 23, 2023 Meeting
April 14, 2023 Meeting
March 10, 2023 Meeting
January 6, 2023 Meeting
November 2, 2022 Meeting
September 21, 2022 Meeting
July 28, 2022 Meeting
December 17, 2021 Meeting
July 16, 2021 Meeting
June 2021 Meeting
August 2020 Meeting
July 2020 Meeting
May 2020 Meeting
February 2020 Meeting
November 2019 Meeting
September 2019 Meeting
Discussion Resources