Virtual Meeting Regarding Home Hardening and Wildfire Catastrophe Modeling in Ratemaking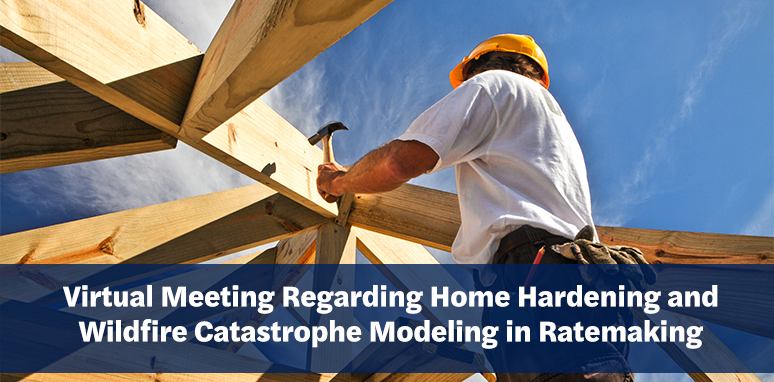 Virtual Meeting Regarding Home Hardening and Wildfire Catastrophe Modeling in Ratemaking 
On December 10, 2020, Commissioner Ricardo Lara convened a virtual meeting with fire and home-hardening experts as well as wildfire catastrophe modeling experts regarding potential administrative and regulatory changes to incentivize mitigation measures and discuss models that are based in fire science to protect lives and property.
The Commissioner's authority under Proposition 103 includes broad rulemaking authority to prevent excessive, inadequate, or unfairly discriminatory insurance rates in California. This virtual meeting was live-streamed to the public so interested persons were able to watch as experts in the field of wildfire science discussed how the Commissioner can use his existing authority to reduce the risk of wildfire spread while also helping to stabilize the insurance market in rural and WUI areas of California.
What did the virtual meeting cover?
The purpose of this meeting was to provide a technical, fire science-based conversation as the Commissioner considers further administrative actions. Specifically, this meeting explored the extent to which wildfire catastrophe modeling as a ratemaking tool can impact market competition and insurance availability.  This meeting also examined the manner in which catastrophe modeling aligned with wildfire mitigation can reduce the spread and risks of future wildfires.
Learn more about the virtual meeting by reading the official notice. 
The public is invited to provide written comments related to the topics to be discussed. Persons interested in submitting written comments are invited to submit them following the conclusion of the meeting, but by no later than January 11, 2021. Written comments should be submitted to CDIRegulations@insurance.ca.gov. 
Any written comments submitted will be part of the public record, and the Commissioner will consider all comments received as he proposes regulatory changes.
---
Related Information: 
---
News