About the Commissioner
Ricardo Lara is California's 8th Insurance Commissioner since voters created the elected position in 1988. As leader of the nation's largest state consumer protection agency he will protect Californians' futures.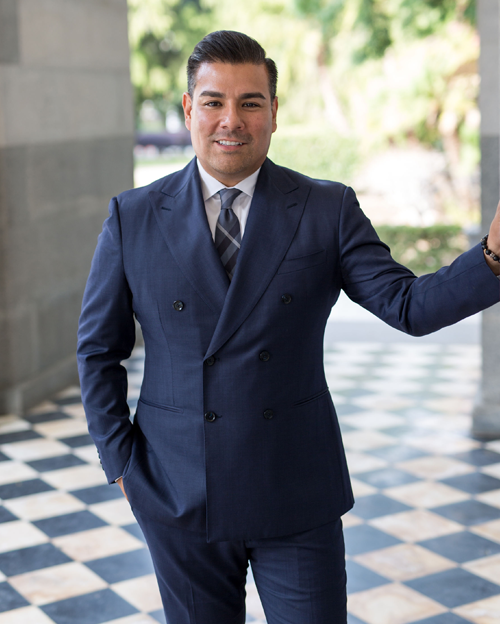 Recovering from natural disasters and resisting climate change
"We cannot deny that with climate change, California faces a threat like never before. We need bold action to ensure our communities adapt and are resilient to this new reality."
Commissioner Lara will help Californians recover from natural disasters and resist the impact of climate change on our communities. As Senator he expanded protections for disaster survivors from losing their homes to insurance cancellation and nonrenewal. He wrote the nation's first climate insurance law, SB 30, to engage the insurance industry in the fight against climate-linked environmental disasters like wildfires and sea level rise. He is one of California's most effective environmental champions, working to improve health conditions and rein in air pollution. He received the United Nations 2017 Climate and Clean Air Awards with Governor Brown and the Air Resources Board for his work to reduce super pollutants.
Protecting Californians from fraud
"We will use every resource to crack down on fraud, which continues to cost consumers and businesses millions of dollars."
Commissioner Lara pledged to protect all Californians from insurance fraud. As State Senator he authored laws that help prevent prescription drug abuse and crack down on patient brokering and fraud involving Californians recovering from substance abuse disorders. As Commissioner he will confront insurance fraud affecting seniors, working families, immigrant communities and other vulnerable Californians.
Embracing technology
"Technology is touching every aspect of our lives. We need to embrace new technology to improve access, affordability, and privacy, while promoting creativity and allowing innovation to transform the industry."
Commissioner Lara wants to keep California at the forefront of the discussion on technology, and make sure we do not lose ground to other states in the race for innovation. The Department will embrace new technology in how people buy insurance while protecting their privacy. California is the hub of innovation, and consumers should be able to insure their cars, homes, or property in many different ways. 
Expanding access to health care
"I am excited to be Governor Newsom's partner in expanding affordable health care for every Californian. There is nothing we cannot achieve with our new common agenda."
Commissioner Lara believes affordable health care should be within reach for all Californians. As State Senator he authored the Health4All Kids Act, which now covers 250,000 California children with full-scope Medi-Cal regardless of their immigration status. He supports efforts to continue to reduce the number of uninsured Californians, strengthen our clinics and public health system, and lower costs for all.
Ensuring a fair insurance market
"I ran for the office of Insurance Commissioner to make a difference in Californians' lives."
The Department of Insurance recovers hundreds of millions of dollars for consumers every year through investigating complaints and conducting market conduct exams. In 2018 alone, the Department recovered $154 million in claims and premiums on behalf of wildfire survivors and other Californians. Consumers who feel they have been treated unfairly by an insurance company, agent or any licensee, are urged to contact the Department's toll-free Consumer Hotline at (800) 927-4357 or visit our web site: insurance.ca.gov.
About Commissioner Lara:
Raised in East Los Angeles by immigrant parents, Commissioner Ricardo Lara made history in 2018 by becoming the first openly gay person elected to statewide office in California's history. Commissioner Lara previously served in the California Legislature, representing Assembly District 50 from 2010 to 2012 and Senate District 33 from 2012 to 2018. Commissioner Lara earned a BA in Journalism and Spanish with a minor in Chicano Studies from San Diego State University.