The Sustainable Insurance Roadmap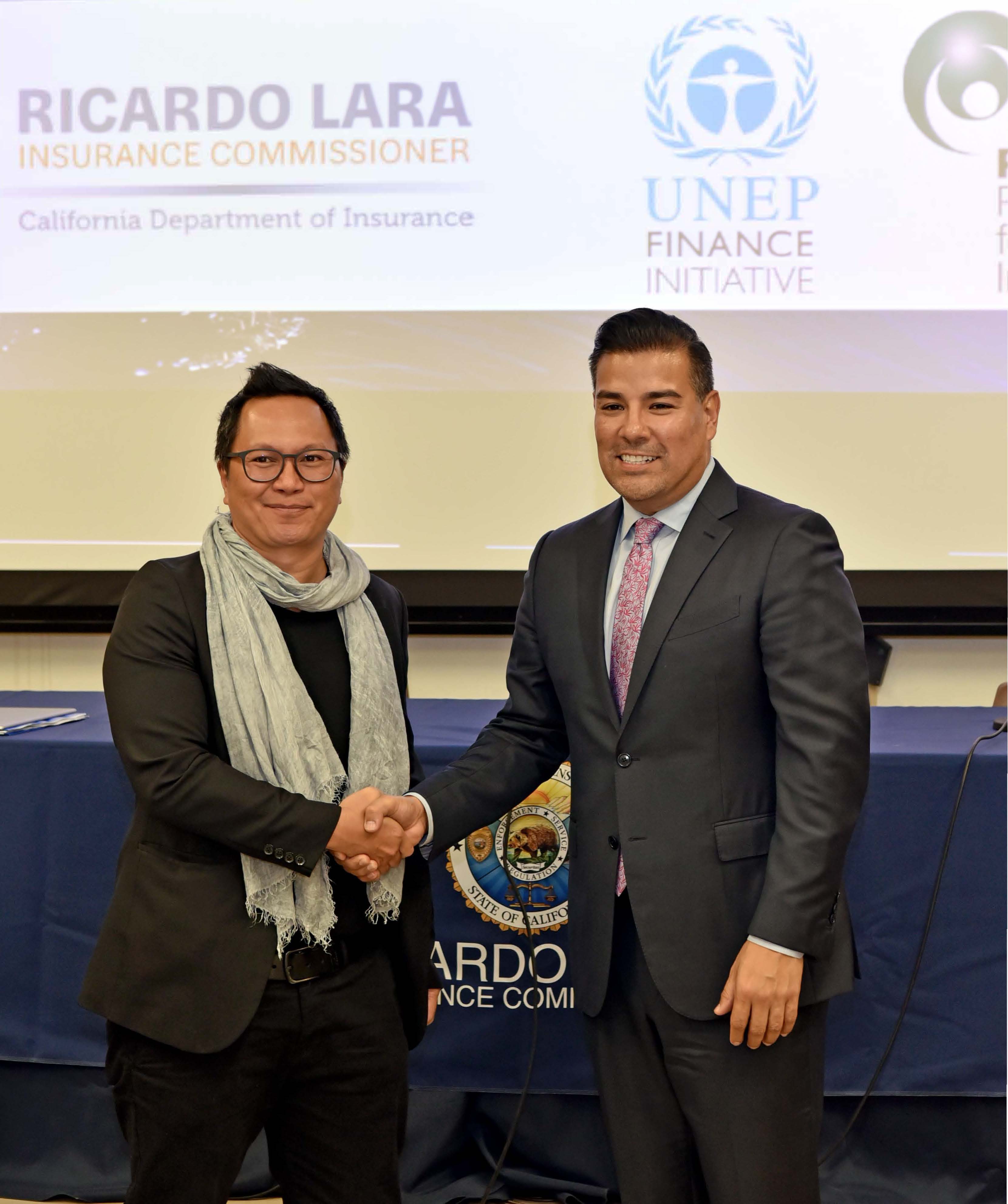 Butch Bacani, United Nations Principles of Sustainable Insurance Initiative and Insurance Commissioner Ricardo Lara, California Department of Insurance, at the Climate Risk Symposium at UCLA Law School in July 2019. The United Nations and the California Insurance Commissioner announced the Sustainable Insurance Partnership. 
---
Read the California Sustainable Insurance Roadmap
Insurance Commissioner Ricardo Lara and the United Nations' Principles for Sustainable Insurance Initiative (PSI) announced a first-of-its-kind "Sustainable Insurance Roadmap" for the nation's largest insurance market. The roadmap marks a strategic shift for insurance's role combating the consequences of climate change for California residents and businesses, toward actively helping reduce emissions and increase community resilience while better aiding recovery from climate-linked disasters. Commissioner Lara and Butch Bacani, who leads the PSI at the United Nations, introduced the Sustainable Insurance Roadmap during the UN Climate Change Conference in Egypt (COP27), highlighting the four interlocking goals of reducing emissions, accelerating community mitigation, keeping insurance affordable and available for vulnerable communities, and closing protection gaps between insured and uninsured losses.
---
Sustainable Insurance Roadmap Actions In Progress
California Sustainable Insurance Roadmap Progress Report (June 2022)
Partnerships among Insurance Regulators
NATIONAL ASSOCIATION OF INSURANCE COMMISSIONERS (NAIC) CLIMATE AND RESILIENCY EXECUTIVE COMMITTEE TASK FORCE
NAIC Task Force Meets to Address Climate and Resiliency
SUSTAINABLE INSURANCE FORUM
Sustainable Insurance Forum (SIF)
---
Tools for Transparency and Financial Oversight
CLIMATE RISK DISCLOSURE, modernized to align with the TCFD Framework
Improving climate risk disclosures provides a foundation for steering the insurance sector away from climate risks and towards more sustainable strategies. The new TCFD-aligned NAIC climate disclosure survey is a leap forward in transparency around how insurers are implementing strategies that address the risks and impacts of climate change. Climate change intensified wildfires, heat waves, among other hazards are a growing threat to people, structures, and businesses as well as a catalyst for transitions in the global economy. The bipartisan coalition of states that are administering the TCFD-aligned climate disclosure survey are empowering the public and investors alike by providing for consistent, descriptive, and comparable information about how insurance companies are responding to climate risks and opportunities.
NAIC TCFD Announcement: U.S. Insurance Commissioners Endorse Internationally Recognized Climate Risk Disclosure Standard for Insurance Companies 
CLIMATE RISK DISCLOSURE REPORT
The Climate Risk Disclosure Report is the most exhaustive study of fossil fuel investments by insurance companies ever done by any U.S. state. For the first time, the report identifies insurance company holdings in green bonds that support clean energy investments and other environmental projects, helping consumers and the California Department of Insurance measure insurance companies' progress toward fighting climate.
Report and Database: Climate Risk Disclosure Analysis
---
Catalyze Sustainable Insurance Products
CLIMATE SMART INSURANCE PRODUCTS DATABASE
Insurance Commissioner Ricardo Lara formally launched the Climate Smart Insurance Products Database, the first-ever consumer-oriented list of green insurance policies. With hundreds of climate-related insurance products already available to consumers and businesses, the California Department of Insurance has developed this database to help the public understand and access these products and encourage further insurance policy innovation in commercial, homeowners, and auto lines, among other lines. Recognizing the potential for specific insurance products to address climate risks and contribute to a sustainable future will encourage consumers and insurance companies to explore products that harness new technologies and promote resilience.
Database: Climate Smart Insurance Products Database
---
California Climate Insurance Report: Protecting Communities, Preserving Nature, and Building Resiliency; How First-of-Its-Kind Climate Insurance Will Help Combat the Costs of Wildfires, Extreme Heat, and Floods.
As a result of the nation's first-ever law to study how to use insurance to protect Californians from climate change, the California Climate Insurance Working Group today released 40 state and local policy recommendations focused on reducing damage and improving recovery following a wildfire, extreme heat wave, or flood. While benefiting all consumers, the recommendations also focus on low-income communities, seniors, and those without insurance who are more vulnerable to the impacts of climate change.
Report Website: California Climate Insurance