Insurance Diversity Initiative (IDI) -OLD
Overview
The Insurance Diversity Initiative (IDI or Initiative) was established in 2011 to focus on diversity issues within California's $310 billion insurance industry. Specifically, these efforts by Department staff and the Commissioner-appointed Insurance Diversity Task Force are meant to encourage increased procurement from diverse suppliers and enhanced diversity among insurer governing boards. The Initiative accomplishes these goals by conducting surveys to collect and publicly disseminate information about the diversity efforts of insurers, as well as through outreach, partnerships, and Department-hosted events.
What's Happening?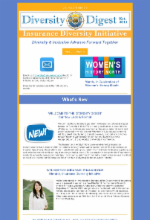 Stay Updated: Get Our Newsletter.
Interested in serving on a board or committee? Visit our Boards and Committees page for more information!