California Climate Insurance Working Group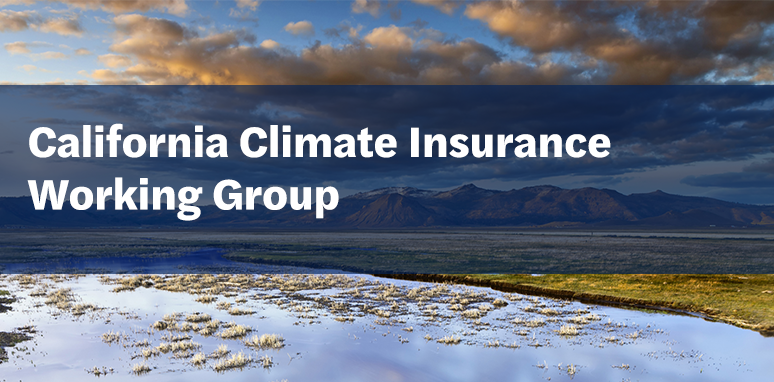 With California communities increasingly exposed to climate change-related threats, Commissioner Ricardo Lara wrote the nation's first climate insurance law to explore innovative strategies that reduce the risk. He has appointed a working group of environmental advocates, researchers, and insurance experts that will make recommendations to reduce the threat from wildfires, floods, mudflows, urban high heat, sea-level rise and other issues facing our state. While other nations have used insurance markets to address climate impacts, California is the first U.S. state to consider innovative ideas, insurance policies, and risk transfer mechanisms. 
---
California Insurance Commissioner Ricardo Lara, Department of Insurance

Commissioner Ricardo Lara has a long record as one of California's most effective environmental champions, passing laws that promote innovation and investment in clean air, embrace equity, protect our waters from oil drilling, and keep California at the forefront of confronting global climate change. He wrote the nation's first climate insurance law to engage the insurance industry in the fight against climate-linked environmental disasters like wildfires and sea level rise. Commissioner Lara received the 2017 U.N. Climate and Clean Air Award with California Governor Jerry Brown for his groundbreaking work to create California's short-lived climate pollutant strategy.
Alice Hill, Senior Fellow for Climate Change Policy, Council of Foreign Relations

Alice C. Hill is the Senior Fellow for Climate Change Policy at the Council on Foreign Relations. She previously served as Research Fellow at the Hoover Institution at Stanford University. Her work focuses on preparing for the impacts of climate change and reducing climate risk. From 2013 to 2016, she held positions in the Obama administration, including as Special Assistant to the President and Senior Director for Resilience Policy for the National Security Council.  While at the White House, Hill led the development of national policy regarding climate resilience, including establishment of national risk management standards for the most damaging natural hazards.  Hill also served as Senior Counselor to the Secretary of the Department of Homeland Security (DHS) and as an ex officio member of the Federal Advisory Committee for the National Climate Assessment.  Earlier in her career, Judge Hill served as Supervising Judge on both the Superior and Municipal Courts in Los Angeles and as Chief of the white-collar crime prosecution unit in the Los Angeles United States Attorney's Office.  She currently serves on the boards of Munich Re North America and related Munich Re Group domestic subsidiaries, as well as the Environmental Defense Fund. Oxford University Press will publish her book, Building a Resilient Tomorrow, co-authored with Leonardo Diaz-Martinez, in fall 2019.