Investigation into misleading home warranty mailers results in refunds to consumers
News: 2023 Press Release
For Release: April 19, 2023
Media Calls Only: 916-492-3566
Email Inquiries: cdipress@insurance.ca.gov
Investigation into misleading home warranty mailers results in refunds to consumers
LOS ANGELES — Insurance Commissioner Ricardo Lara announced that an insurance company offering home warranties will refund Californians deceived by a misleading mailer sent to hundreds of thousands of consumers. An investigation by the California Department of Insurance found that Response Indemnity Company of California worked with an unlicensed marketing company that mailed a "final notice" to consumers falsely warning that their home warranty was expiring. Because of the Department's action, Response Indemnity will allow consumers to cancel the home warranty and receive a refund if the consumer purchased the warranty because of the mailer.
"This insurance company allowed fake marketing tactics to be used in order to garner more business and deceive consumers," said Commissioner Lara. "My Department's investigation stopped these illegal actions and Californians who bought home warranties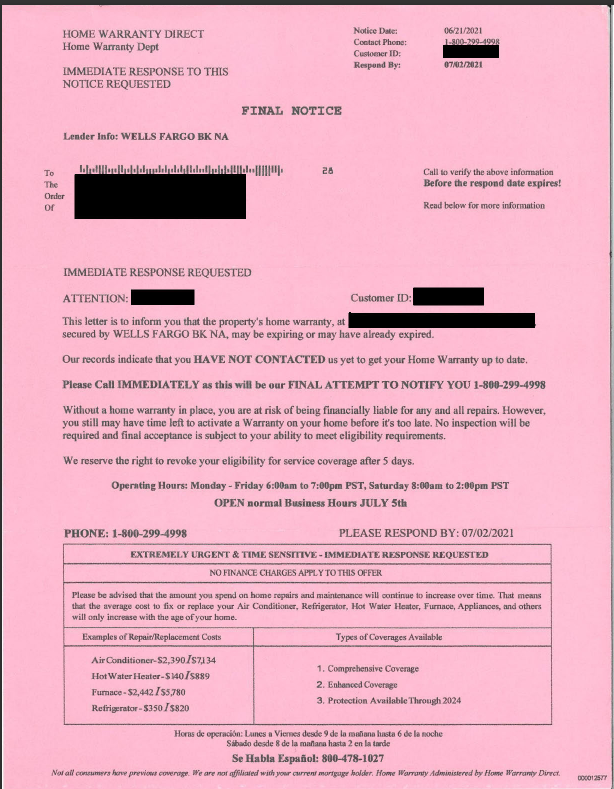 they did not need will receive the refunds they deserve."
The Department served an Order to Show Cause to Response Indemnity after discovering it had entered into an agreement with Integrity Admin Group, Inc., an unlicensed marketing company, that resulted in Integrity Admin Group creating fake home warranty brand names and sending out the "final notice" mailers to hundreds of thousands of California consumers. The fake brand names included Home Warranty Direct, Home Warranty Resolutions, Home Warranty Solutions, New Home Warranty, and Like New Home Warranty, and would appear in the upper left-hand corner of the mailer. The Department served a Cease and Desist Order to Integrity Admin Group that included the fake brand names.
Under the terms of the settlement agreement, consumers who received the mailer and purchased home warranties as a result are permitted to cancel the warranty and receive a full refund. To request a refund, eligible consumers should email carefunds@integrity.car with the subject line "Refund Request (policy number, last name, first name)" by October 9, 2023.
The Department of Insurance protects consumers by investigating illegal sales of home warranties and making sure that claims are properly paid. Before purchasing a home warranty (also known as a "home protection contract"), we urge you to visit our website where you can view the company's performance and complaint data, and make sure the company has a valid license to sell insurance.
# # #
Media Notes:
---

Led by Insurance Commissioner Ricardo Lara, the California Department of Insurance is the consumer protection agency for the nation's largest insurance marketplace and safeguards all of the state's consumers by fairly regulating the insurance industry. Under the Commissioner's direction, the Department uses its authority to protect Californians from insurance rates that are excessive, inadequate, or unfairly discriminatory, oversee insurer solvency to pay claims, set standards for agents and broker licensing, perform market conduct reviews of insurance companies, resolve consumer complaints, and investigate and prosecute insurance fraud. Consumers are urged to call 1-800-927-4357 with any questions or contact us at www.insurance.ca.gov via webform or online chat. Non-media inquiries should be directed to the Consumer Hotline at 800-927-4357. Teletypewriter (TTY), please dial 800-482-4833.