Virtual Homeowners' Insurance Investigatory Hearing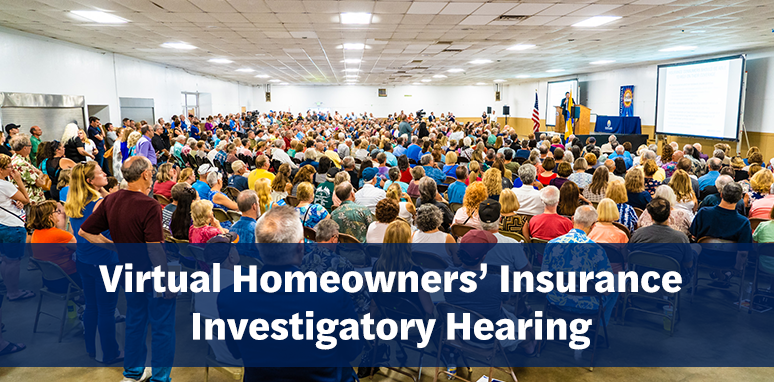 Insurance Commissioner Ricardo Lara hears from Placer County consumers at a town hall in Auburn, California on August 28, 2019. 
Virtual Homeowners' Insurance Investigatory Hearing
Insurance Commissioner Ricardo Lara convened a virtual investigatory hearing on Monday, October 19, to initiate a series of regulatory actions that will protect residents from the increasing risk of wildfires. Several years of deadly and destructive wildfires, intensified by climate change, have made insurance more difficult and expensive to find for many Californians, especially those living in high wildfire risk areas and in the "wildland urban interface" of the state. The Commissioner's actions aim to help stabilize the insurance market while protecting lives and homes, reducing catastrophic wildfire losses, and increasing transparency for consumers.

"With climate change fueling California's devastating fires, I am taking action to bring down the risk of losing your home in a wildfire and losing your insurance to a non-renewal. Californians need to know they can get and keep insurance they can afford before they buy, sell, or build a home," said Commissioner Lara. "I will use my authority under California law and Proposition 103 to protect consumers and the future of a sustainable insurance market in our state."

Following public input, Commissioner Lara will take action which will be informed by that input as well as concerns that he has heard from Californians in meetings since he took office in 2019.  Actions will include, but not be limited to, the following areas: 
Building on existing home-hardening standards that are based in fire science, making them consistent and applicable to all insurance companies and the rates they seek for approval by the Department;

Giving transparency to consumers about their wildfire risk score and what they can do to reduce it. Insurance companies use wildfire risk scores to determine which homes they will write and the premium they charge;
Creating insurance incentives recognizing home hardening, mitigation of properties, and community mitigation actions, and 
Requiring that insurance companies take steps to enhance competition in the market. 
What did the hearing cover? 
Commissioner Lara sought information from the public as he takes actions to make insurance more available and affordable for Californians living in the path of future wildfires and other climate-related insurance risks. This virtual workshop provided the public with a deliberate and fair opportunity to discuss issues such as the following: 
Why are insurance companies reluctant to take homeowner wildfire mitigation efforts into account when pricing residential property insurance? 
How will climate change, including extreme heat events, continue to affect future homeowners' insurance rates, availability of insurance and the financial health of our insurance market?
Why are insurers declaring their own rates to be 'inadequate' and refusing to renew many homes in the wildland-urban interface, while at the same time these same insurers seek rate increases that are lower than California's law permits? 
Learn more about the hearing by reading the official notice. 
The investigatory hearing was held online to allow Californians to listen and to give comment.  Interested persons are encouraged to provide written comments, supporting documents and materials by email via CDIRegulations@insurance.ca.gov.
Any public comments submitted during the hearing or via writing will be part of the public record, and the Commissioner will consider all comments received as he proposes regulatory changes.
 
---
Related Information: 
---
News
---