Insurance Fraud is a Felony
(Revised August 2010)
A (PDF) printable version of the Insurance Fraud is a Felony Brochure is
available.
---
Table of Contents
The Mission of the Fraud Division
Insurance Fraud Costs Consumers
Common Insurance Fraud Schemes
Filing a Complaint of Suspected Insurance Fraud
Local Fraud Division Regional Offices Jurisdictional Map
Local Fraud Division Regional Offices Contact Information
---
What is Insurance Fraud?
Fraud occurs when someone knowingly lies to obtain a benefit or advantage to which they are not otherwise entitled or someone knowingly denies a benefit that is due and to which someone is entitled. Depending on the specific issues involved, an alleged wrongful act may be handled as an administrative action by the Department or the Enforcement Branch may handle it as a criminal matter.
The Mission of the Fraud Division:
To protect the public from economic loss and distress by actively investigating and arresting those who commit insurance fraud and to reduce the overall incidence of insurance fraud through anti-fraud outreach to the public, private, and governmental sectors.
Established in 1979, the Fraud Division is the largest law enforcement unit that makes up the Department of Insurance and is composed of four separate Insurance Fraud Programs:
Automobile Insurance Fraud
Workers Compensation Fraud
Property Casualty (property, health, arson, life insurance fraud, and disaster relief)
Health Care/Disability Fraud
The Fraud Division Detectives are the leading experts in the field of insurance fraud. They are trained in criminal investigations and provide assistance as well as training for consumers, the insurance industry, and law enforcement agencies.
Fraud Division Detectives are sworn Peace Officers. They conduct investigations, surveillances, undercover operations and interview witnesses and suspects. Detectives also write and serve warrants; make arrests and testify in court.
Fraud Division Detectives are also assigned to various local enforcement task forces such as auto theft, computer forensics, underground economy, pharmaceutical fraud and disaster fraud.
Fraud Division Detectives are tasked with identifying emerging trends in insurance fraud in order to protect California consumers.
Insurance Fraud Costs Consumers
The Insurance Information Institute estimates that fraud accounts for 10% of the property casualty insurance industry's incurred losses and loss adjustment expenses, or about $30 billion annually.
A new report by the National Insurance Crime Bureau (NICB), shows and increase in claims related to "opportunistic fraud", a phenomenon that could be related to the economic downturn. Opportunistic fraud is when a policyholder has a legitimate claim but pads it to produce a larger payment. (Source: NICB, January 2010)
People who commit insurance fraud range from organized criminals who steal large sums through fraudulent business activities and insurance claims mills, to professionals and technicians who inflate the cost of services or charge for services not rendered; to ordinary people who want to cover their deductible or view filing a claim as an opportunity to make a little money.
Some lines of insurance are more vulnerable to fraud than others. Health care, Worker's compensation and automobile insurance are believed to be the sectors most affected.
If you are solicited to commit insurance fraud, STOP!
Insurance Fraud is a felony punishable by up to five years in state prison and a $50,000 fine.
Common Insurance Fraud Schemes
In order to protect yourself from being a victim or an unwitting participant in insurance fraud, it is important to familiarize yourself with common insurance fraud schemes. Most businesses providing insurance or insurance related services to consumers are trustworthy; however, the more familiar you are with fraud indicators (red flags), the better equipped you will be to recognize potential fraud. It is important to remember that no one indicator by itself necessarily constitutes a potential fraud. Even the presence of several indicators, while suggestive of possible fraud, does not mean that fraud is being committed. Moreover, insurance fraud can exist without any of the common indicators being present. The following indicators for automobile, workers compensation, property casualty fraud and health care fraud should help isolate those insurance services that merit closer scrutiny.
Automobile Insurance Fraud
Automobile insurance fraud in California has historically taken several forms. The most common fraud schemes involve automobile property and automobile collisions.
Automobile Property
This type of fraud most often involves dishonest auto body and repair shops and/or insureds who may employ a variety of illegal or questionable techniques including:
Reporting parts of vehicles as damaged or lost when in fact they were not damaged or lost prior to the shop receiving the vehicle
Charging an excessive final cost as compared to the original estimate of damage
Listing charges for repairs on the billing statement that were not authorized
Billing for Original Equipment Manufacturer or OEM parts when after-market or salvaged parts were used.
Reporting vehicles as stolen, burned or vandalized falsely in order to collect insurance monies or obtain repairs for previous damage.
It is always very important for the consumer to carefully review all paperwork from auto body repair shops in order to protect against potential fraud. Also, consumers should be cautious of any auto body or repair facility that makes referrals to medical or legal offices. This practice may be an indicator of "capping." Capping is the illegal referral of clients to legal and medical offices for a fee.
Automobile Collisions
Automobile fraud often involves organized criminal rings. Staged auto collisions follow several basic schemes including:
Sudden Stop - The driver of the vehicle in front of you stops suddenly for no reason, causing you to rear-end the vehicle.
Swoop and Squat - A fast moving vehicle swoops in front of the vehicle in front of you, causing that vehicle to break suddenly, causing you to collide into the "victim" vehicle. A third vehicle has also forced you to remain in your lane so that you cannot avoid the collision.
Stuffed Passengers - Passengers who were not in the vehicle a the time of the collision.
Right of Way Collision - An oncoming driver gives you the right of way and waits for you to enter the roadway, then purposely cause a collision.
It is also common for staged auto collisions to involve drivers who have temporary vehicle registration, vehicles that have prior damage from other "accidents," and attorneys who contact collision victims without being solicited.
If you have been in an auto collision, be cautious of any unsolicited referral to a body shop, law office, or medical office. Organized collision rings and "cappers" actively solicit others in the community to participate in "paper collisions." These collisions only exist on paper and generally innocent parties are not involved. Paper collisions have gained popularity amongst fraud perpetrators, as they are less dangerous from a bodily injury standpoint, and there is less likelihood of police involvement.
Workers Compensation Fraud
Workers compensation fraud schemes can range from staged injuries on the job, to complex systems of medical billing for services that were never rendered. The following are some examples of the most common worker's compensation fraud activities:
An employee knowingly files a claim for an injury that did not occur on the job or in relationship to the job
An employee receives total temporary disability benefits as a result of lying about outside employment, re-employment, or their ability to work
A medical or legal provider bills for services not provided
A medical or legal provider regularly bills for more time than provided
An employee fails to obtain worker's compensation insurance for employees
An employer discourages an injured employee from filing a worker's compensation claim
A company provides fraudulent information to the insurance carrier in order to reduce their workers' compensation premiums
An employee claims they are unable to do various activities that they can do
Property Casualty Fraud
Property casualty fraud investigations focus on arson for profit, murder for profit (life insurance fraud) pharmaceutical fraud and billing suspected fraudulent claims of health, life, property (including arson) and all other non-auto and non-workers' compensation cases. Property repair, property claims adjusting, billing of medical services and pharmaceutical fraud, are amongst the important aspects of activity that are overseen by Property Casualty.
Health Care Fraud
Health insurance fraud is a particular problem for the health insurance industry and its policyholders. Although there are no precise figures, it is believed that fraudulent activities account for billions of dollars annually in added health care costs nationally. Health care fraud causes losses in premium dollars and increases health care costs unnecessarily.
As mandated by California Insurance Code Section 1872.85, funding for the Disability and Health Care Fraud Program is derived from an annual assessment of 10 cents for each insured under an individual or group insurance policy issued in the State. This funding supports criminal investigations by the Fraud Division and prosecution by district attorneys for suspected fraud involving disability and health care fraud.
Billing of Medical Services
Medical billing fraud often involves a billing statement that is falsified by dishonest staff that employ a variety of illegal or questionable techniques. The Fraud Division encourages consumers to review their Explanation of Benefits and to compare them to services actually received and to report the following:
Billing for treatment that was not provided
Billing for medical tests or evaluations that were not conducted
Billing for medical supplies that were not provided and/or received
Billing for office visits that never occurred
Billing for cancellation charges for office visits that were not originally scheduled
Billing for pharmaceuticals never received or disbursed
Back to Top
Filing a Complaint of Suspected Insurance Fraud
Download a copy of the form (FD-1) to report suspected fraud. Please complete thoroughly with as much detail as possible.
Fraud Claims Form (sample)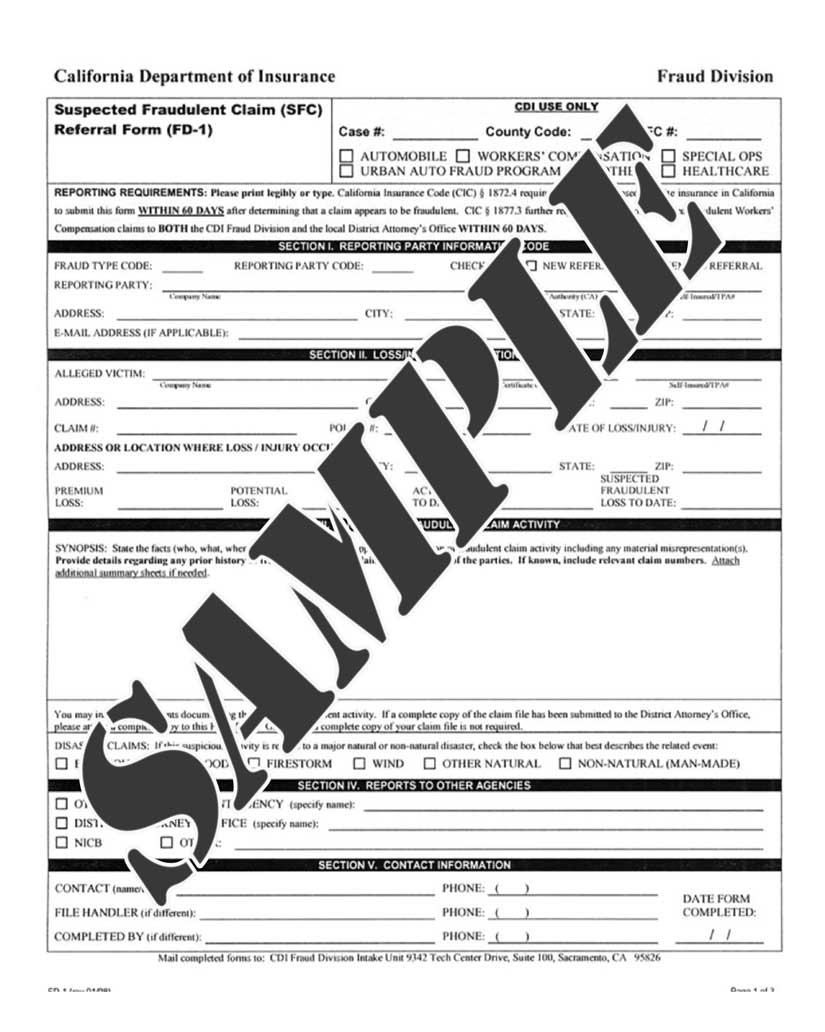 Local Fraud Division Regional Offices Jurisdiction Map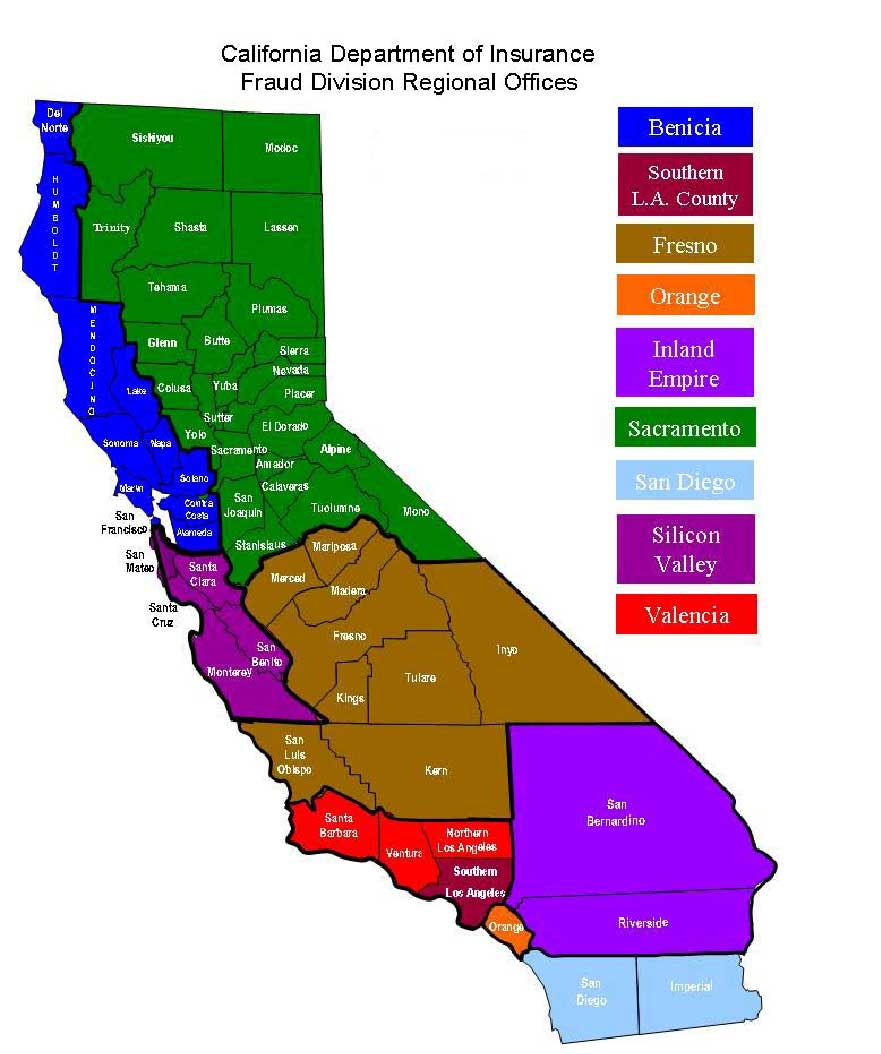 Notification of these types of fraud can be made in person or mailed to:
The California Department of Insurance
Post Office Box 277320
Fraud Division Intake Unit
Sacramento,CA 95827-7320
Regional Office Addresses:
| Regional Office | Address | Phone |
| --- | --- | --- |
| Benicia | 1100 Rose Dr., #100, Benicia, CA 94510 | (707) 751-2000 |
| Fresno | 1780 E. Bullard, #101, Fresno, CA 93710 | (559) 440-5900 |
| Inland Empire | 9674 Archibald Ave., #100 Rancho Cucamonga, CA 91730 | (909) 919-2200 |
| Los Angeles Task Force (LATF) | 5999 East Slauson Ave., Commerce, CA 90040 | (323) 278-5000 |
| Orange | 333 South Anita Dr., #450, Santa Ana, CA 92868 | (714) 712-7600 |
| Sacramento | 9342 Tech Center Dr., #500, Sacramento, CA 95826 | (916) 854-5700 |
| San Diego | 1495 Pacific Highway, #400, San Diego, CA 92101 | (619) 699-7100 |
| Silicon Valley | 18425 Technology Dr., Morgan Hill, CA 95037 | (408) 201-8800 |
| Southern Los Angeles | 5999 E. Slauson Ave., Commerce, CA 90040 | (323) 278-5000 |
| Valencia | 27200 Tourney Road, #375, Valencia, CA 91355 | (661) 253-7500 |
The California Department of Insurance has a Consumer Hotline to serve the needs of the public. If you have any information regarding fraudulent insurance activity, you may call the Consumer Hotline at 800-927-HELP (4357). Callers who reside out-of-state dial (213) 897-8921. All suspected fraudulent insurance claims reported to the Consumer Hotline are forwarded to the Fraud Division.
It is important to know that notification of insurance fraud may be made anonymously. The Insurance Code states that no insurer, or the employees or agents of any insurer, shall be subject to civil liability for libel, slander, or any other relevant cause of action by virtue of providing information, in good faith, concerning a suspected fraudulent claim to law enforcement, including the California Department of Insurance Fraud Division.
The California Department of Insurance is here to help you if you need more information or assistance with fraud or any other insurance related matter. Please see the "Talk to Us" section for the many ways to contact the California Department of Insurance.