Fraud Division Regional Offices
The Fraud Division has established a method for consumers to report suspected insurance fraud. It is important to know that notification of insurance fraud may be made anonymously. You may contact any of the Fraud Division Regional Offices directly responsible for your county. Other types of complaints may be directed to the department's Consumer Services Division using the Consumer Request for Assistance Form. For further information about the Fraud Division and its programs, go to the Fraud Division home page. The Insurance Code states that no insurer, or the employees or agents of any insurer, shall be subject to civil liability for libel, slander or any other relevant cause of action by virtue of providing information concerning a Suspected Fraudulent Claim to law enforcement, including the California Department of Insurance, Fraud Division.
The Fraud Division is here to help you if you need more information or assistance with fraud related matters. To contact your nearest Fraud Division Regional Office, select the regional office or select the appropriate county on the map.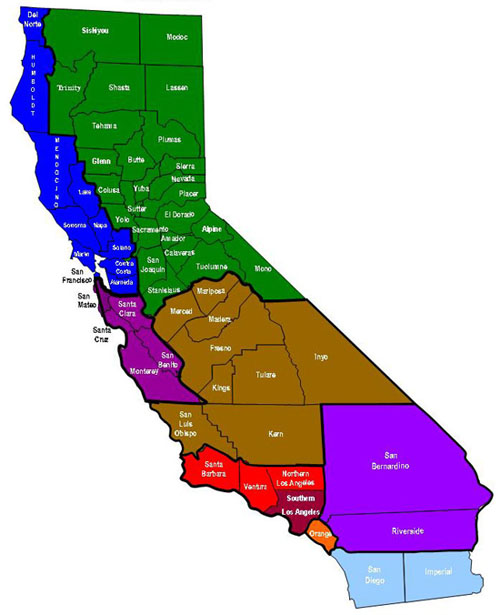 Fraud Division Regional Offices 

GOLDEN GATE

LOS ANGELES

CENTRAL VALLEY

ORANGE

INLAND EMPIRE

SACRAMENTO

SAN DIEGO

SILICON VALLEY

VALENCIA
Fraud Division Management
George Mueller, Deputy Commissioner
Enforcement Branch
Eric Charlick, Chief
Fraud Division
---
Enforcement Branch Headquarters Office
2400 Del Paso Road, Suite 250
Sacramento, CA 95834
Phone:  (916) 854-5760
Fax:  (916) 854-5848

Note:  To discourage unsolicited automatic e-mails, we have changed the way in which our e-mail address is listed.  To report suspected fraud or reach Fraud Division staff, address your e-mail to Fraud@insurance.ca.gov.
---
Central Valley Regional Office
Christine Diep, Captain

5737 N Fresno Street
Fresno, CA 93710
Phone:  (559) 440-5900
Fax:  (559) 440-5543

Counties Served:  Fresno, Inyo, Kern, Kings, Madera, Mariposa, Merced, San Luis Obispo, and Tulare.

Back to Top
---
Golden Gate Regional Office
Christina Smith, Captain

1100 Rose Drive, Suite 100
Benicia, CA 94510
Phone:  (707) 751-2000
Fax:  (707) 747-8233

Counties Served:  Alameda, Contra Costa, Del Norte, Humboldt, Lake, Marin, Mendocino, Napa, San Francisco, Solano, and Sonoma.

Back to Top
---
Inland Empire Regional Office
Eric Hood, Captain

9674 Archibald Avenue, Suite 100
Rancho Cucamonga, CA 91730
Phone:  (909) 919-2200
FAX:  (909) 980-2196

Counties Served:  Riverside and San Bernardino.
---
Orange Regional Office
Vladislav Mikulich, Captain

333 South Anita Drive, Suite 450
Orange, CA 92868
Phone:  (714) 712-7600
Fax:  (714) 456-1838

County Served:  Orange.
Back to Top
---
Sacramento Regional Office
Lance Ferrari, Captain

2400 Del Paso Road, Suite 250
Sacramento, CA 95834
Phone:  (916) 854-5700
Fax:  (916) 854-5813

Counties Served:  Alpine, Amador, Butte, Calaveras, Colusa, El Dorado, Glenn, Lassen, Modoc, Mono, Nevada, Placer, Plumas, Sacramento, San Joaquin, Shasta, Sierra, Siskiyou, Stanislaus, Sutter, Tehama, Trinity, Tuolumne, Yolo, and Yuba.

Back to Top
---
San Diego Regional Office
Steven Salvatori, Captain

10021 Willow Creek Road, Suite 100
San Diego, CA 92131
Phone:  (858) 693-7100
Fax:  (858) 635-3760

Counties Served:  Imperial and San Diego.

Back to Top
---
Silicon Valley Regional Office
Roderick Reyes, Captain

18425 Technology Drive
Morgan Hill, CA 95037
Phone:  (408) 201-8800
Fax:  (408) 779-7299

Counties Served:  Monterey, San Benito, San Mateo, Santa Clara, and Santa Cruz.

Back to Top
---
Los Angeles Regional Office
Rick Edmonson, Captain

5999 East Slauson Avenue
City of Commerce, CA 90040
Phone:  (323) 278-5000
Fax:  (323) 838-0028

County Served:  Southern Los Angeles County.
---
Valencia Regional Office
Stuart Thompson, Captain

27200 Tourney Road, Suite 375
Valencia, CA 91355
Phone:  (661) 253-7400
Fax:  (661) 286-1457

Counties Served:  Northern Los Angeles, Santa Barbara, and Ventura.

Back to Top