Tax credits awarded to insurers investing in California's underserved communities
News: 2015 Press Release
For Release: December 10, 2015
Media Calls Only: 916-492-3566
Email Inquiries: cdipress@insurance.ca.gov
Tax credits awarded to insurers investing in California's underserved communities
SACRAMENTO, Calif. — California Insurance Commissioner Dave Jones today announced $9.3 million in tax credits awarded to insurance companies and other investors that made more than $46.6 million in capital investments into California's underserved communities through the second round of the 2015 California Organized Investment Network (COIN) Community Development Financial Institution (CDFI) tax credit cycle.
"The COIN CDFI tax credit program successfully attracts needed investments in California's underserved communities," said Commissioner Jones. "This program is an extraordinary example of the kind of innovative public-private partnership making a difference for both our communities and the insurance marketplace."
Each year the Department of Insurance may award up to $10 million in tax credits to support $50 million in capital from insurance companies and other investors for community development. Investors earn a tax credit worth 20 percent of their investment.
This capital helps CDFIs create jobs, build affordable housing and fund other projects that improve the quality of life in communities and neighborhoods throughout the state.
Among others, COIN CDFI Tax Credits were awarded to:
CSAA Insurance Group for its $353,235 investment into Enterprise Community Investment for the California Hotel project in Oakland that provides for the rehabilitation of 137 units of affordable rental housing, including 119 efficiencies, 34 units for special needs households, and 15 units for homeless persons with mental illness.
MetLife Insurance Company for its $3 million investment into Genesis LA Economic Growth Corp that will promote safe and healthy communities in underserved areas of Los Angeles County through a learning center that provides summer camps and school enrichment programs, workforce development programs, and funding for a homeless servicing agency.
United HealthCare for its $3 million investment into Enterprise Community Loan Fund to

support and leverage financing for the development and preservation of affordable housing and Federally Qualified Health Centers for low-income families across the State.

  
MetLife Insurance Company for its $687,162 investment into Enterprise Community Investment that will leverage additional capital to rehabilitate Gabilan Plaza apartments, an affordable housing project for low to moderate-income families in Salinas. The rehabilitation will include adding photovoltaic panels and converting ten units for handicap accessibility.
The COIN CDFI tax credit program provides tax credits to investors and helps CDFIs raise funds for projects that create social and environmental benefit in California. Without the COIN CDFI Tax Credit program, many of these community development projects would not be funded.




Media Notes:

 

Since the inception of the COIN CDFI tax credit program in 1997, more than $285 million has been invested in COIN Certified CDFIs throughout California.

Established in 1996, COIN is a collaborative effort between the California Department of Insurance, insurance industry, community affordable housing and economic development organizations, and community advocates to support investments benefitting California's environment and low-to-moderate (LMI) income and rural communities. For more information, go online at www.insurance.ca.gov/0250-insurers/0700-coin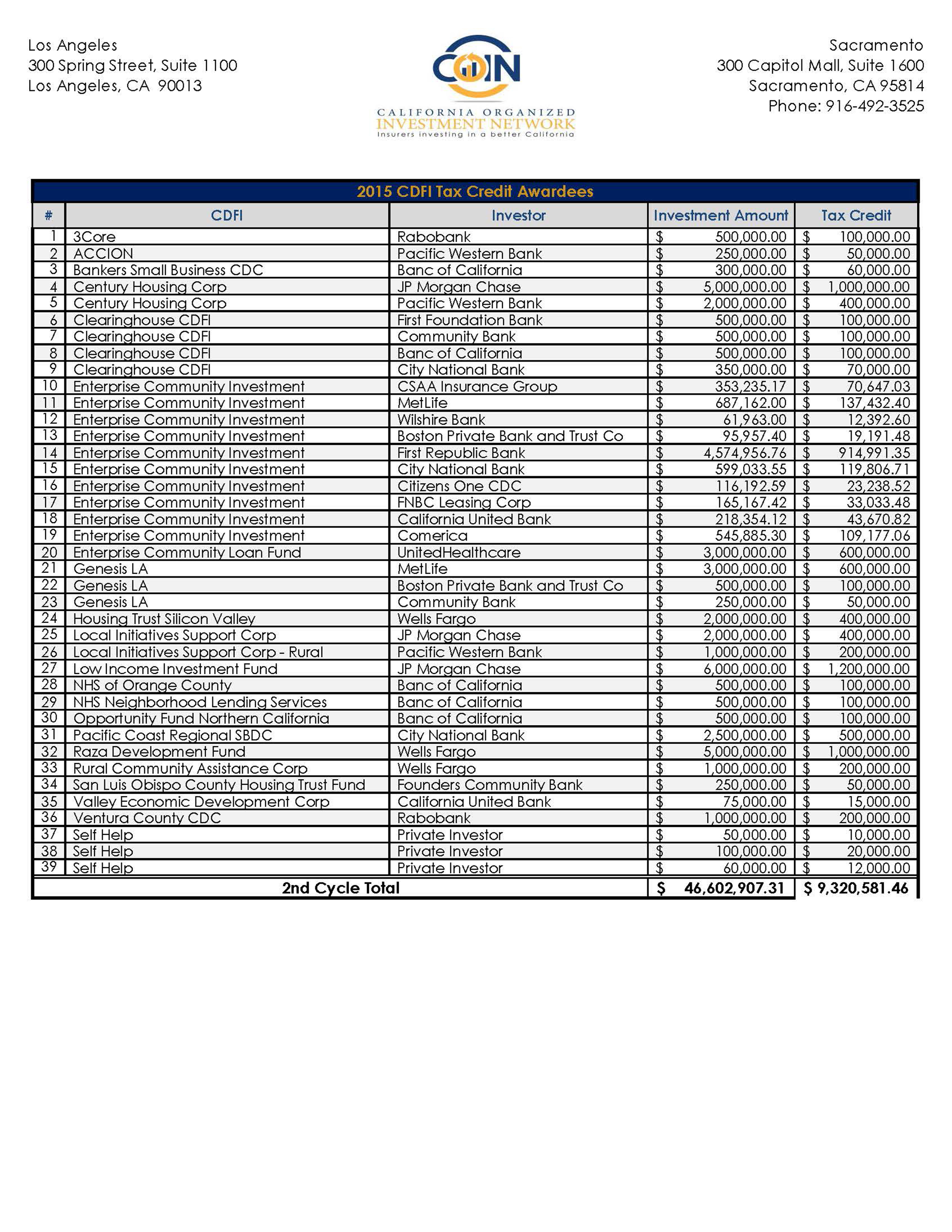 ---

The California Department of Insurance, established in 1868, is the largest consumer protection agency in California. Insurers collect $371 billion in premiums annually in California. Since 2011 the California Department of Insurance received more than 1,000,000 calls from consumers and helped recover over $469 million in claims and premiums. Please visit the Department of Insurance website at www.insurance.ca.gov. Non-media inquiries should be directed to the Consumer Hotline at 800-927-4357. Teletypewriter (TTY), please dial 800-482-4833.