Recovery from climate change-intensified natural disasters can be faster, more equitable through new 'climate insurance' strategies, experts find
News: 2021 Press Release
For Release: July 22, 2021
Media Calls Only: 916-492-3566
Email Inquiries: cdipress@insurance.ca.gov
Recovery from climate change-intensified natural disasters can be faster, more equitable through new 'climate insurance' strategies, experts find
New report issues 40 recommendations focusing on preparing and assisting vulnerable communities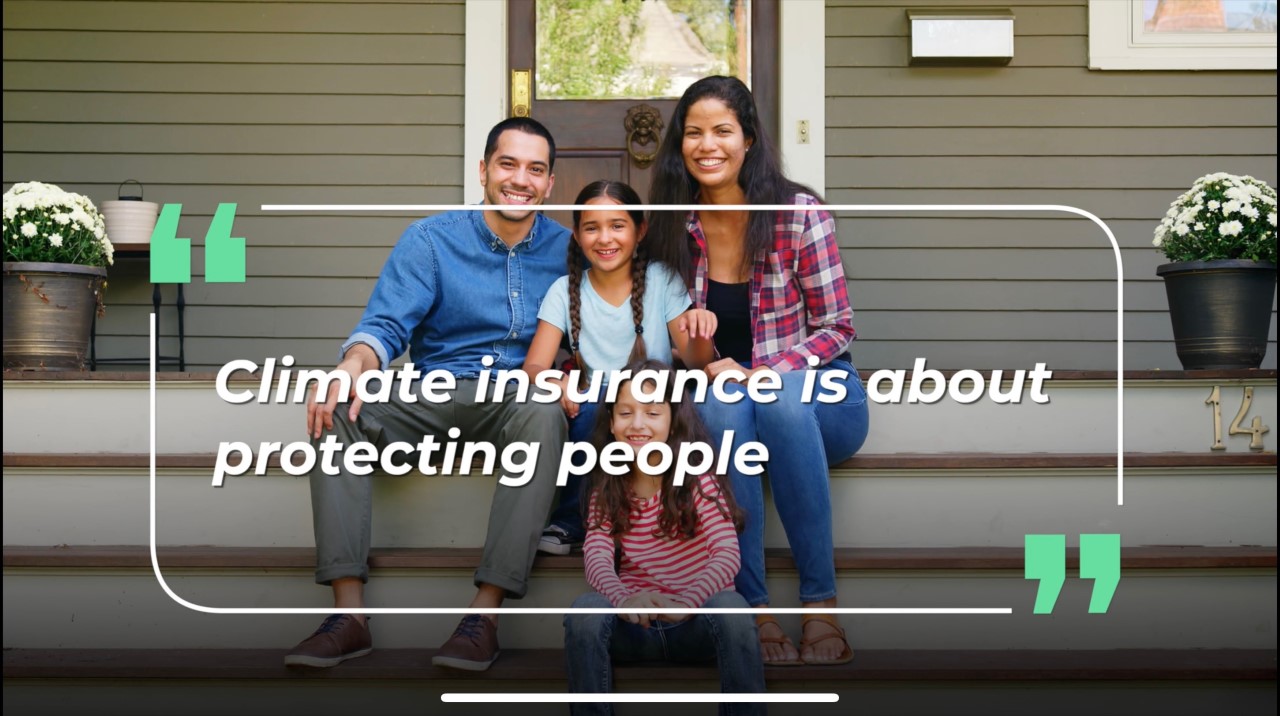 Visit our new website to read the full report and watch a 3-minute video with Insurance Commissioner Ricardo Lara and other Climate Insurance Working Group members, introduced by Kate Gordon, senior advisor to the U.S. Department of Energy.
LOS ANGELES — As a result of the nation's first-ever law to study how to use insurance to protect Californians from climate change, the California Climate Insurance Working Group today released 40 state and local policy recommendations focused on reducing damage and improving recovery following a wildfire, extreme heat wave, or flood. While benefiting all consumers, the recommendations also focus on low-income communities, seniors, and those without insurance who are more vulnerable to the impacts of climate change.
The report "Protecting Communities, Preserving Nature, and Building Resiliency; How First-of-Its-Kind Climate Insurance Will Help Combat the Costs of Wildfires, Extreme Heat, and Floods" recommends policies to the Insurance Commissioner, the Governor's Administration, the State Legislature, local governments, businesses, and communities across the state to help close growing protection gaps between those who are insured and those who are uninsured or underinsured, including the first ever recommendations dealing with the increasingly dangerous threat of extreme heat waves. These recommendations also strengthen nature-based solutions such as healthy forests, wetlands, and urban tree canopies.
The working group has publicly met several times since 2019, when Insurance Commissioner Ricardo Lara established it as directed by his enacted Senate Bill 30 (Chapter 614, Statutes of 2018). The 18 members include Commissioner Lara, environmental advocates, researchers, and international and U.S.-based insurance leaders.
"We know it can take families years to recover from the effects of wildfire disasters and floods made worse by climate change, while communities of color and our urban residents and outdoor workers labor under intensifying heat waves with fewer insurance protections," said Commissioner Lara. "There should be no gaps between the wealthiest and the rest of us on how quickly we can bounce back. By acting now, we can save lives and save communities from the increasing costs, health impacts, and social inequities of climate change."
Many studies already show the unequal impact of climate change on Californians:
An atmospheric river led to nearly 2,600 homes and businesses flooding in Sonoma County two years ago – many of them without flood insurance. Since 1992, every county in California has been declared a federal disaster area at least once for a flooding event, according to the Legislative Analyst's Office.
Extreme heat waves increase emergency room visits for heat illness – which rose 35 percent between 2005 and 2015, especially among Black, Asian American, and Latino communities, according to research cited by the Los Angeles Times. A recent report by American Forests showed that the nation's poorest communities have 25 percent less tree cover than the wealthiest, and temperatures can be 10 degrees higher.
Wildfires have struck many working-class communities, where coverage gaps and increasing costs make it harder to rebuild. Insurance companies have dropped longtime customers and increased rates, making insurance harder to find and more expensive for many Californians, according to Department of Insurance data.
"We know that when people have insurance, they have better outcomes in the wake of an extreme event. And with climate change, we're going to have more extreme events," said working group co-chair Alice Hill, David M. Rubenstein Senior Fellow for Energy and the Environment at the Council on Foreign Relations and a former senior advisor on climate to former President Barack Obama. "With insurance, people and communities can recover quickly when climate-worsened disasters strike."
Recommendations for the Insurance Commissioner, Governor, Legislature, and local governments
While many of the recommendations would require action by the Governor, the State Legislature, or local governments, Commissioner Lara will prioritize several policies under his existing authority to protect Californians, including:
Creating "climate ready" pilot projects utilizing nature-based solutions, such as a community flood insurance plan for an at-risk area that gives residents some disaster coverage and also invests in wetland preservation, reducing future relief, and rebuilding costs.
Advocating for ranking of heat waves to better communicate the deadly risks to consumers and help communities prepare, similar to how tropical storms and hurricanes are described by "category" level, as a member of the Extreme Heat Resilience Alliance.  
Increasing pre-disaster mitigation by consumers, business, and local governments, which Commissioner Lara is currently pursuing through a partnership with Governor Gavin Newsom's safer building and keeping people out of harm's way through proposed regulations to require insurance companies disclose wildfire risk scores to consumers and businesses while Incentivizing home- and community-hardening.
"We need to stop reacting to disasters, and use climate insurance to strengthen community preparation and natural solutions like healthy forests, wetlands, and urban incentivizing that can save lives, protect vulnerable communities, and prevent damage," said Commissioner Lara.
The working group will meet in August to continue implementation of policy recommendations.
What Climate Insurance Working Group members and other consumer and environmental advocates are saying about the new report:
"Far too many communities lack adequate health or property insurance, making it challenging to confront climate-related health impacts or recover from disaster" said working group member Sona Mohnot, Associate Director of Climate Equity at the Greenlining Institute, a racial and economic justice public policy organization based in Oakland. "As climate change impacts like heatwaves continue to hit these formerly redlined communities of color first and worst, we must prioritize equitable insurance strategies to prepare and protect communities on the frontlines of climate change."
"Investing in nature and nature based solutions like wetlands to buffer floodwaters is one way to reduce harm that can be caused by climate change impacts," said working group member Starla Yeh, Director of the Policy Analysis Group, Climate and Clean Energy Program of NRDC (Natural Resources Defense Council). "It is about ensuring that to the greatest extent possible, we can mitigate the cost of disaster relief and ensure that we have the greatest level of safety among our public as possible."
"This report highlights the importance of facilitating and NRDC fuel reduction and home hardening by communities and individuals and I applaud the working group for their work," said Amy Bach, Executive Director of consumer advocacy group United Policyholders.
"When the business community, researchers, advocates, and government come together to tackle sticky problems like climate change, we can come up with the big ideas that disrupt status quo," said working group member Kristen Torres Pawling, Sustainability Program Director at the County of Los Angeles Chief Sustainability Office. "By including a local government like Los Angeles County, the needs and health of vulnerable communities took center stage."
"Our working group took a holistic look at the threats California faces from wildfires, flooding and heat to think about how insurance, coupled with improved risk communication and investments in risk reduction, could be a powerful tool to protect our communities in the coming years," said working group member Carolyn Kousky, Executive Director at the Wharton Risk Management and Decision Processes Center at the University of Pennsylvania.
"No one is escaping the impacts of climate change, both physical impacts, but also the financial impacts," said working group Kathy Baughman McLeod, Senior Vice President and Director, Adrienne Arsht Rockefeller Foundation Resilience Center. "People and economies are suffering every day. The time is now for a deeper understanding of these risks, particularly the risks of extreme heat, and the role of insurance to address them."
"This report underscores the urgent need to tackle the mounting threats from climate-fueled wildfires, floods and extreme heat that are exacerbating inequities across California and the globe," said working group member Katelyn Roedner Sutter, Senior Manager for U.S. Climate at Environmental Defense Fund. "It's imperative that communities, insurers, and local and state leaders employ a variety of solutions to build climate resilience. That includes scaling up investment in nature-based solutions, such as proactively managing forests and wetlands, which can help shield communities from harm."
"Nature-based climate strategies can play a critical role in helping communities address increasing risks associated with climate change," said working group member Michelle Passero, Director of The Nature Conservancy's Climate Program. "Forest management can reduce fire severity, wetlands can help protect against floods and urban greening can provide cooling on high heat days. This report provides innovative recommendations on how these strategies may be integrated with insurance mechanisms to realize these benefits and ultimately reduce climate risk."
"This work highlights how the entire insurance risk management value chain—from understanding, preventing and reducing risk, to transferring risk through insurance solutions—can be harnessed to make California safer, healthier and more resilient," said working group member Butch Bacani, who leads the U.N.'s Principles for Sustainable Insurance Initiative. "Equally, it sheds light on the key role of nature-based solutions that not only build resilient communities, but also reduce carbon emissions as the world transitions to a net-zero and nature-positive economy." 
"California may be the first and biggest US insurance market to grapple with the complex reality of climate risk in the 2020s, but it certainly won't be the last" said working group member Dan Firger, Co-Founder of Great Circle Capital Advisors. "As Commissioner Lara and other state officials implement the recommendations included in this report, other states and international regulators would do well to follow their lead. As in so many arenas, when it comes to climate change, California's innovations will become the standard operating procedures for many others." 
"Climate change threatens the wellbeing of Californians and the sustainability of our natural resources, as we are already seeing in increasingly intense wildfires, flood risks, and extreme heat events," said Michael Lynes, Director of Public Policy for Audubon California. "The report highlights that innovative nature-based solutions, such as expanding wetlands in floodplains to absorb flood waters, can protect communities, provide habitat for birds and other wildlife, and build the state's climate resilience."  
# # #
Media Note:
Download the recommendations here.
---

Led by Insurance Commissioner Ricardo Lara, the California Department of Insurance is the consumer protection agency for the nation's largest insurance marketplace and safeguards all of the state's consumers by fairly regulating the insurance industry. Under the Commissioner's direction, the Department uses its authority to protect Californians from insurance rates that are excessive, inadequate, or unfairly discriminatory, oversee insurer solvency to pay claims, set standards for agents and broker licensing, perform market conduct reviews of insurance companies, resolve consumer complaints, and investigate and prosecute insurance fraud. Consumers are urged to call 1-800-927-4357 with any questions or contact us at www.insurance.ca.gov via webform or online chat. Non-media inquiries should be directed to the Consumer Hotline at 800-927-4357. Teletypewriter (TTY), please dial 800-482-4833.