Commissioner Lara takes action to assist 2017 wildfire survivors facing expiration of living expense payments
News: 2019 Press Release
For Release: May 29, 2019
Media Calls Only: 916-492-3566
Email Inquiries: cdipress@insurance.ca.gov
Commissioner Lara takes action to assist 2017 wildfire survivors facing expiration of living expense payments
With many homeowners facing delays in rebuilding, Department asks insurers to extend coverage by at least one year and pay full value for replacement homes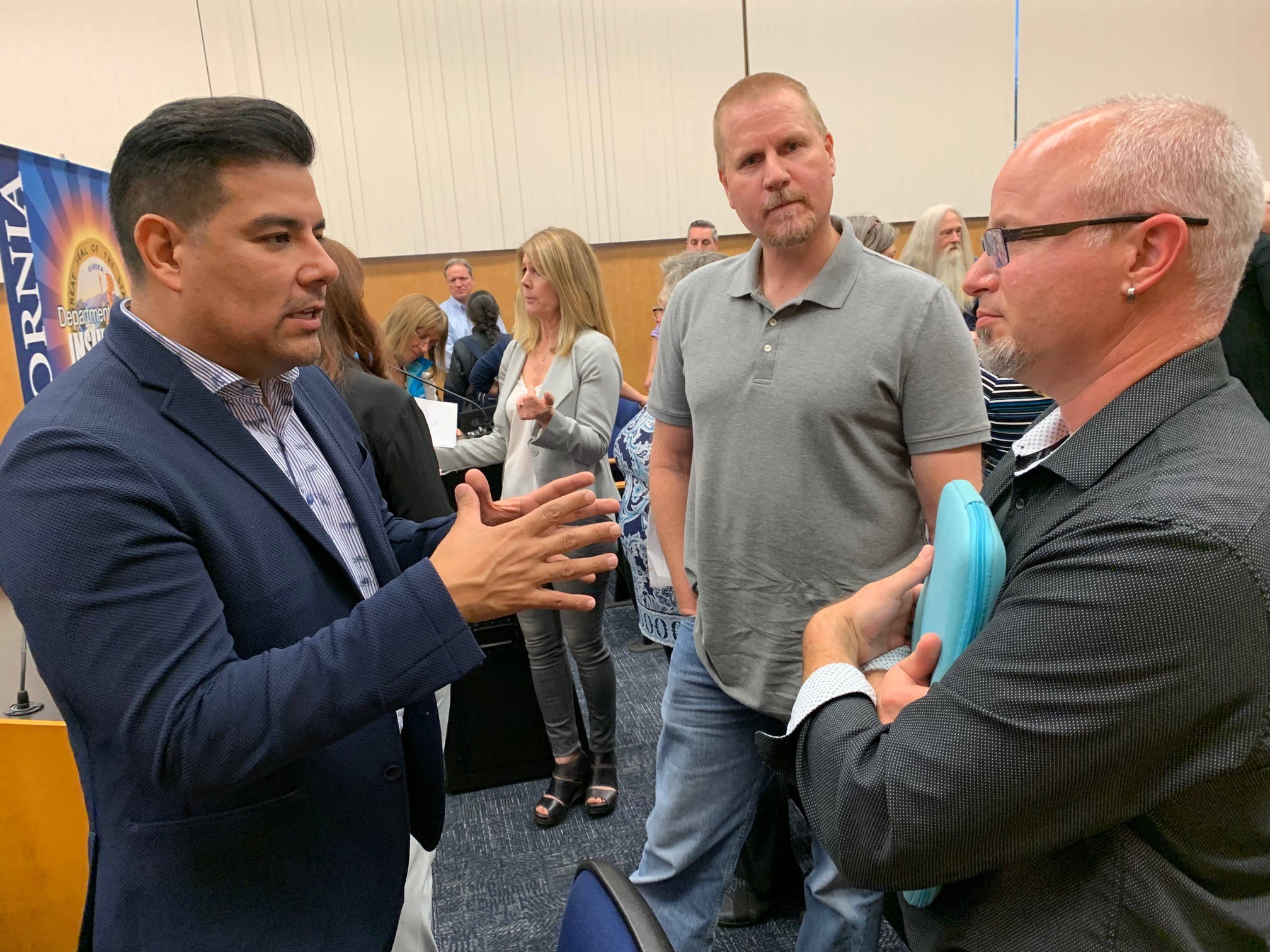 Above: Commissioner Lara meeting with wildfire survivors in Santa Rosa on Tuesday, May 28.
SANTA ROSA, Calif. — Insurance Commissioner Ricardo Lara announced two new actions intended to assist survivors of the devastating 2017 North Bay Fires who are facing unavoidable delays in rebuilding. Commissioner Lara made the announcement during a meeting on Tuesday night with block captains and local officials in Santa Rosa.
The Department of Insurance issued a notice to insurers requesting they extend additional living expense (ALE) coverage by a full year to survivors whose additional living expense benefits will expire within months. ALE coverage typically includes food and housing costs, furniture rental, relocation and storage, and extra transportation expenses while a home is uninhabitable.
The Department issued a second notice requesting that insurers not deduct the land value when survivors who suffered a total loss choose to purchase a new home in a different location. Many insurers deduct land costs, reducing the amount that a homeowner can receive.
New state laws extended living expense coverage from 24 to 36 months, but did not apply to survivors of the October 2017 fires that destroyed 5,300 homes and caused more than $12 billion in losses across five counties.
"With labor shortages and other outside factors delaying the rebuilding process, time is running out for many who lost their homes in the 2017 fires," said Insurance Commissioner Ricardo Lara. "I urge insurers to show good faith with their policyholders by extending living expense payments to those who have endured so many delays beyond their control."
According to local officials, Sonoma County and the City of Santa Rosa have processed 2,814 permits for homes, representing 55 percent of the 5,143 homes destroyed in the fires. To date, 399 homes have been finished.
The deduction of the land value from the cost of purchasing a home at a new location creates another complication for some survivors.
California law allows those who suffer a total loss to utilize insurance to rebuild in the original location, rebuild in a new location, or to relocate to a replacement home. The Department has received complaints from policyholders who chose to relocate that their insurer deducted the estimated land value of the new home from the overall replacement cost payment, leaving policyholders with less than the full amount of their benefits they would have been due if they rebuilt the home.
"Allowing policyholders to purchase an already existing home without having insurers deduct the value of land will greatly help wildfire survivors throughout California rebuild their homes and lives," Commissioner Lara added.
Following the North Bay Fires in October 2017, Department staff met with more than 1,000 survivors at the Local Assistance Centers and more than 300 survivors at our one-on-one workshop held in December 2017, participated in many community meetings, and we continue to assist consumers who contact us through our Consumer Hotline or who file complaints. 
The Department has received more than 600 formal complaints as a result of the 2017 North Bay Fires and has recovered millions of dollars for survivors through our investigation and intervention. Wildfire survivors can contact the Department of Insurance at 800-927-4357 (HELP).
# # #
Media Notes:
Last year Senate Bill 894, Assembly Bill 1800, and Assembly Bill 1772, increased the 24-month mandatory ALE coverage period to a minimum of 36 months. However, the provisions became effective on September 21, 2018, meaning survivors of California's 2017 wildfires do not benefit from the changes in law.
---

Led by Insurance Commissioner Ricardo Lara, the California Department of Insurance is the consumer protection agency for the nation's largest insurance marketplace and safeguards all of the state's consumers by fairly regulating the insurance industry. Under the Commissioner's direction, the Department uses its authority to protect Californians from insurance rates that are excessive, inadequate, or unfairly discriminatory, oversee insurer solvency to pay claims, set standards for agents and broker licensing, perform market conduct reviews of insurance companies, resolve consumer complaints, and investigate and prosecute insurance fraud. Consumers are urged to call 1-800-927-4357 with any questions or contact us at www.insurance.ca.gov via webform or online chat. Non-media inquiries should be directed to the Consumer Hotline at 800-927-4357. Teletypewriter (TTY), please dial 800-482-4833.