Commissioner Lara announces new members of Department of Insurance Executive Team
News: 2019 Press Release
For Release: January 17, 2019
Media Calls Only: 916-492-3566
Email Inquiries: cdipress@insurance.ca.gov
Commissioner Lara announces new members of Department of Insurance Executive Team
Names first Latina chief deputy in Department's history and nation's first executive-level position to fight climate change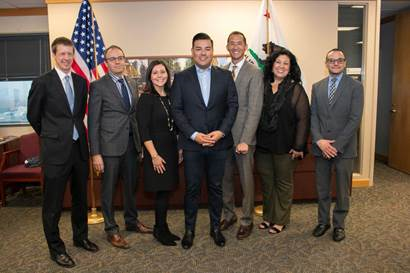 SACRAMENTO, Calif. — Insurance Commissioner Ricardo Lara announced new members of his executive team, including the first Latina chief deputy in the history of the Department of Insurance.
The new executive team members join an existing leadership team that oversees the nation's largest state consumer protection agency. Commissioner Lara swore in the new members after taking office on January 7.
"I am proud of naming our first Latina chief deputy in the Department's history because I believe all levels of government should reflect California's diverse communities," said Commissioner Lara. "Our team will embrace innovation, with the first in the nation executive-level position engaging the insurance industry in the fight against climate change. Protecting California's consumers demands we confront the growing threats from wildfires, fraud, and the rising cost of health care in partnership with the Governor and Legislature."
Chief Deputy Catalina Hayes-Bautista joins the Department of Insurance after serving as Deputy Legislative Affairs Secretary in the Office of Governor Edmund G. Brown, Jr. She previously served as Deputy Secretary for Legislative Affairs at the California Environmental Protection Agency, was a principal consultant in the Office of Speaker Toni Atkins, served as Legislative Director in the Office of California State Senator Ricardo Lara, and as Legislative Aide in the Office of California State Assemblymember Fiona Ma.  
Senior Deputy Commissioner and Legislative Director Michael Martinez rejoins the Department of Insurance, where he served as Deputy Insurance Commissioner and Legislative Director under Insurance Commissioner Dave Jones. He was previously a Deputy Legislative Affairs Secretary and Deputy Appointments Secretary in the Office of Governor Brown.
Michael Peterson will serve as Deputy Commissioner for Climate and Sustainability, the nation's first executive-level position focused on engaging the insurance industry in the fight against climate change. He previously served as legislative consultant to Senator Lara, focusing on climate change, natural resources and energy policy, and as a consultant for the California State Senate Committee on Natural Resources and Water.
Director of Community Outreach Julia Juarez will lead the Department's engagement with California communities. She previously served as District Director for Senator Lara when he represented the 33rd Senate District.
Special Assistant David Green joins the Department after serving in the Capitol office of Senator Lara.
Michael Soller will serve as Deputy Commissioner for Communications and Press Relations (Northern California). He previously served as Communications Director to Senator Lara and as Communications Director for the California Democratic Party under former Chairman and Senate President pro Tempore-Emeritus John Burton.
Commissioner Lara is the eighth Insurance Commissioner of California since voters created the position in 1988, and the first openly LGBTQ person to be elected to statewide office in California.
The more than 1,300 employees of the Department of Insurance work to protect Californians from unfair insurance practices and fraud, preserve communities and businesses, and prevent losses through innovative approaches. Learn more at insurance.ca.gov.
---

Led by Insurance Commissioner Ricardo Lara, the California Department of Insurance is the consumer protection agency for the nation's largest insurance marketplace and safeguards all of the state's consumers by fairly regulating the insurance industry. Under the Commissioner's direction, the Department uses its authority to protect Californians from insurance rates that are excessive, inadequate, or unfairly discriminatory, oversee insurer solvency to pay claims, set standards for agents and broker licensing, perform market conduct reviews of insurance companies, resolve consumer complaints, and investigate and prosecute insurance fraud. Consumers are urged to call 1-800-927-4357 with any questions or contact us at www.insurance.ca.gov via webform or online chat. Non-media inquiries should be directed to the Consumer Hotline at 800-927-4357. Teletypewriter (TTY), please dial 800-482-4833.