Enforcement Branch Recruitment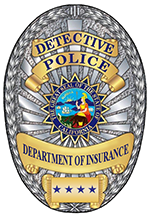 Join A Winning Team - CDI Enforcement Branch
Welcome

Welcome to the employment opportunities page for the Enforcement Branch of the California Department of Insurance (CDI). The Enforcement Branch investigates over 4,600 cases of misconduct and fraud by insurers, bail bond agents, employers, providers, insurance agents, brokers, and adjusters, and claimants annually.

The investigative staff of the Enforcement Branch meets this challenge with diversity, training opportunities, career advancement, and professionalism. We invite interested candidates to read further.
About the Enforcement Branch
The Enforcement Branch is the investigative body of CDI.  The branch consists of the Fraud Division and the Investigation Division. The Fraud Division investigates suspected insurance fraud committed by individual and organized criminals. The Investigation Division investigates suspected fraud committed by insurance agents, brokers, public adjusters, bail agents, insurance companies and other individuals and entities who perpetrate fraud against consumers.
About the Fraud Division
Established in 1979, the CDI's Fraud Division is recognized as the leading expert in the field of insurance fraud. The Fraud Division has a respected history of protecting the residents of the State of California by investigating and arresting those who commit insurance fraud and other related crimes.

Fraud Division Detectives are sworn (830.3 PC) State Peace Officers who conduct criminal investigations, serve search warrants, arrest suspects, testify in court, conduct undercover operations, surveillance, and work with local, state and federal law enforcement agencies. CDI offers statewide positions, unique training opportunities and special assignments such as Computer Forensics, Field Training Officer, Enforcement Tactics and Training, and Task Force Assignments.

Begin a challenging and exciting career with the Fraud Division!
 
About the Investigation Division
Established prior to 1936, the Investigation Division has continuously served and protected California consumers against insurance fraud. The Investigation Division has had great successes including disciplinary actions leading to fines and license revocations, as well as many arrests leading to convictions and incarcerations of the suspects. These cases have resulted in monetary restitution to California consumers. 

Investigation Division Investigators (830.11 PC) and Detectives (830.3 PC) enforce laws pertaining to insurance premium theft, bail industry misconduct, senior citizen abuses involving life insurance and annuity products, and other insurance related financial crimes. Investigators conduct criminal and administrative investigations. Detectives conduct criminal investigations, undercover operations, surveillance, and arrest suspects. Both Investigators and Detectives serve search warrants, testify in court, and work with local, state and federal law enforcement.

Become part of our professional organization and start an exciting career in law enforcement with the California Department of Insurance, Investigation Division!