Claims and Loss Management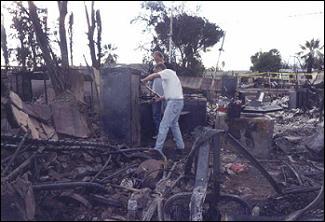 (CA Dept. of Insurance Photo)
Insurance Action Items and Things to Look Out For
Use Caution when returning to your home, and only do so when given permission by your local agency resposible for the evacuations.
Check for hot spots in the yard or on the roof.
Use water to extinguish hot spots. Smoldering stumps, logs, and other vegetation can continue burning for several days.
Continue to monitor the area.
Protecting property and Calling your insurance company or agent after a loss.
How to protect your property from further damage with temporary repairs.
Find out questions to ask when beginning the claim process.
Watch Out for scam artists immediately following a disaster.
Dealing with and confronting scam artists.
Choosing and verifying licensed contractors (after consulting with an insurance adjuster).
Living Expenses: You may be eligible for reimbursement for additional living expenses due to mandatory evacuations.  Evacuees should check their policies as soon as possible, and if they have any insurance questions, they should call the CDI Consumer Hotline at 800-927-HELP. Many residential homeowners' insurance policies cover what is known as ALE, or additional living expenses. This permits homeowners to maintain their normal standard of living by covering the increased living expenses, incurred as a result of damage caused by the fire or a mandatory evacuation, such as:
Extra food costs
Increased housing costs
Furniture rental
Relocation and storage costs
Telephone installation
Extra transportation costs to and from school or work.
If you need assistance and have question or concerns please call the CDI Consumer Hotline at 800-927-4357.
Back to Top