Wildfire Response and Readiness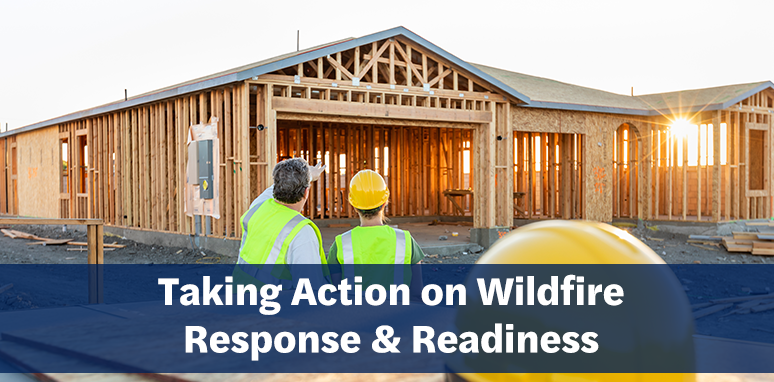 Wildfire Response and Readiness
Since taking office in January 2019, Insurance Commissioner Ricardo Lara has met with thousands of homeowners about the growing threat of wildfires to lives and property. 
Climate change impacts have intensified. Several years of deadly and destructive wildfires have made insurance more expensive and difficult to find for many Californians, especially those living in high wildfire risk areas and in the state's "wildland urban interface." 
""Californians need to know they can get and keep insurance they can afford before they buy, sell, or build a home," said Commissioner Lara at a hearing in October 2020. 
"Countless Californians are putting in sweat equity to protect their homes and properties and spending the money necessary to harden against the threat of ember-driven wildfire spread. The sacrifice should not all be on the homeowner's side – the playing field has been tilted against you for too long."
Commissioner Lara has taken the following actions to protect consumers and help reduce the risk of wildfire loss: 
 
Freezing Insurance Non-renewals for 2.4 Million Policyholders After 2020 Wildfire Emergencies 
Commissioner Lara issued a mandatory one-year moratorium on insurance companies non-renewing or cancelling residential property insurance policies — protecting 2.4 million policyholders affected by the record 2020 wildfire season. The Commissioner's action implements a California law that he authored in 2018 while serving as state senator in order to provide temporary relief from non-renewals to residents living within or adjacent to a declared wildfire disaster. This is the second year that Commissioner Lara has triggered the new law, which protected more than 1 million policyholders in 2019. 
"Losing your insurance should be the last thing on someone's mind after surviving a devastating fire," said Commissioner Lara. "My action gives millions of Californians breathing room and hits the pause button on insurance non-renewals while we take additional steps to expand our competitive market."
Look up your ZIP code to find out if your home has the one-year protection. 
Helping Homeowners to Recover from Fires and Find Home Insurance
As the state's top consumer protection agency, the Department of Insurance assists homeowners in filing claims and maximizing their insurance benefits following a disaster. The Department provides in-person help to wildfire survivors at Local Assistance Centers and virtual assistance via our hotline and online chat. Visit the Department's webpage for wildfire survivors. 
Commissioner Lara sponsored legislation signed into law in 2020 by Governor Gavin Newsom that will cut red tape for wildfire survivors by removing a company-specific form requirement for inventories, requiring advance payment of living expenses, giving grace periods for payment of premiums, and additional living expenses be paid when a home is uninhabitable due to an evacuation order or lack of water or power caused by a fire. He also sponsored legislation signed into law that requires insurance companies to give notice when they non-renew a consumer but offer a lesser "difference in conditions policy," and extend coverage for building code upgrades. Those laws take effect in 2021. Read more about this legislation: http://www.insurance.ca.gov/0400-news/0100-press-releases/2020/release094-2020.cfm
The Department of Insurance also assists homeowners in obtaining insurance with the Home Insurance Finder website. Use this tool to find insurance companies and agents/brokers licensed to sell homeowners, renters, condominium, or mobile home insurance, including in areas with higher fire risk.
You can also read the Department's Top Ten Tips for Finding Residential Insurance.
Taking Action for a Strong Insurance Market
Commissioner Lara convened a virtual investigatory hearing on October 19, 2020, to gather public input using his authority to protect residents from the increasing risk of wildfires. More than 500 homeowners, first responders, advocates, and insurance representatives attended the hearing.
Watch the first-ever investigatory hearing on homeowners' insurance availability and affordability and learn more. 
As a follow-up to that hearing, Commissioner Lara convened a second virtual meeting on December 10, 2020 regarding potential administrative and regulatory changes to incentivize home-hardening and discuss models that are based in fire science to protect lives and property.
Visit th Department's web page for the Virtual Meeting on Home Hardening and Wildfire Catastrophe Modeling to watch the virtual meeting or read the notice. 
---
Related Information: 
---
News
2021
2020
2019