Safety and Survival
When a Fire Is Approaching Your Home…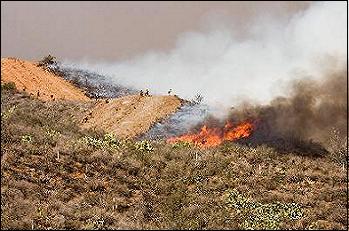 (FEMA/Andrea Booher)
Wear protective clothing that covers the body - handkerchief for the face, long sleeve shirt, pants, gloves, and sturdy shoes.
Listen carefully for and follow instructions from local officials; evacuate immediately when told to do so.
Back the car into the garage, leave keys in the ignition, and disable automatic garage door opener.
Choose the safest escape route away from potential fire.
Notify someone when you are leaving and tell them where you are going.
Bring your Family Emergency Plan and Emergency Kit with you.
Place all pets in one room and follow out a plan for them if you need to evacuate.
…And If You Are SURE You Have Time Before Evacuating: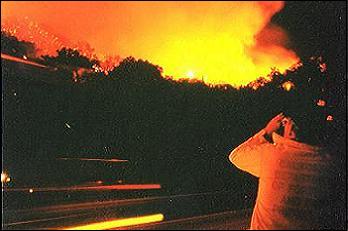 (FEMA News Photo)
Close up and lock the entire house - windows, vents, doors, blinds, and other openings.
Shut off all of your utilities except electricity. Turn on lights in the house to increase visibility for your home in heavy smoke.
Move flammable items close to the center of the room/home.
Connect hoses/sprinklers to outside taps, wet the roof/house, and remove or wet trees/shrubs within 15 feet of the home.
Gather fire tools such as rake, axe, bucket, saw, and shovel.
Other Useful Links: