Seven Steps to Earthquake Safety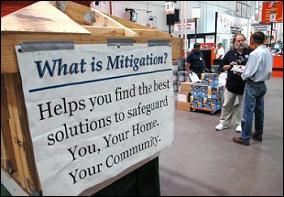 (FEMA/Mark Wolfe)
The majority of injuries and casualties during earthquakes are a result of items falling onto people in their homes and businesses. These items can include the following:
Bookcases, Cabinets, and Shelves
Celings Lights and Fixtures
Large Appliances - Such as Refrigerators and Water Heaters
Windows and Other Potential Broken Glass
The following links provide some preventive measures to secure major and minor household possessions to the walls, floors, and ceilings.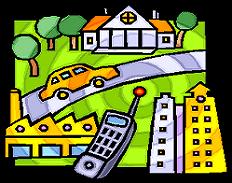 Follow the links for tips and advice on creating a disaster plan for your family so that household members each understand what to do before, during, and after an earthquake.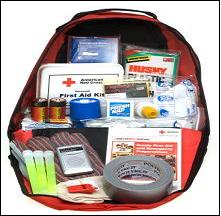 (FEMA/Red Cross Photograph)
Help might not always be available within hours or even days immediately following an emergency. A disaster supply kit is necessary for survival while waiting for assistance from local officials.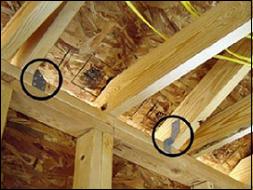 (FEMA/William Dryden)
The home structure needs to be strengthened to provide stability against the forces of an earthquake. It is more likely to survive if it is properly secured from top to bottom. Read about tips on how to strengthen the roof, walls, and foundation of your home or business.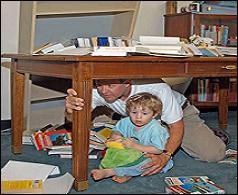 (USGS)
During an earthquake if possible stop to find safety underneath a sturdy surface away from dangerous objects that could fall onto you. Protect and cover your head while holding onto to your covering until the shaking stops.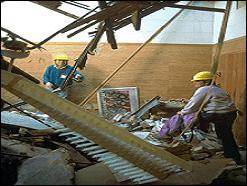 (FEMA News Photo)
Learn about steps to take to access and provide first aide care following an earthquake. Also, find out different areas of damage to look for in and around your house, neighborhood, or place of business.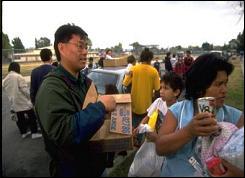 (FEMA News Photo)
Put into motion the disaster plan you created and be on alert for news updates from local officials and other advisory groups.