Photo of Commissioner Jones announcing insurers not divesting from Iranian energy, military and nuclear holdings
Dave Althausen
February 14, 2013 1:32 PM
Insurance Commissioner Dave Jones announced the success of the Department of Insurance's Iran Divestment Program. Jones reported that only eight insurance companies, of the 1300 insurers licensed to do business in California, continue to decline to divest from holdings in the energy, military, and nuclear sectors of the Iranian economy. When the program began, the total amount of investments by insurers in companies doing business in the Iranian military, energy and nuclear sectors was approximately $6 billion. Today, insurer investments in companies doing business with the Iranian energy, military and nuclear sectors total just under $200 million-a 97 percent reduction.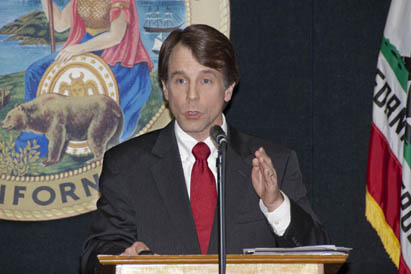 Insurance Commissioner Dave Jones yesterday in Los Angeles announcing insurersthat declined to divest from energy, military and nuclear sectors in Iran.
For a high resolution copy of this photo, please contact Jayne Lucas at Jayne.Lucas@insurance.ca.gov. Photo credit: Fred Totten, Department of Insurance.