News: 2010 Press Release
For Release: April 21, 2010
Media Calls Only: 916-492-3566
Insurance Commissioner Poizner Proudly Recognizes Dept. of Insurance Fraud Division Participation in This Year's 26th Annual 'Baker to Vegas Cup Relay'
Twenty fraud investigators run 120-mile relay race joined by more than 250 teams traveling from as far as Canada, Germany and Great Britain.
Insurance Commissioner Steve Poizner today recognized the members of the California Department of Insurance Fraud Division who participated in this year's 26th Annual Baker to Vegas Cup Relay race on April 17-18, 2010.
"Congratulations to the 2010 Fraud Squad for their strong performance and tremendous efforts in the Baker to Vegas Cup Relay," said Commissioner Poizner. "I particularly salute the team members whose generosity, dedication, and teamwork reflect so positively on this department and the profession."
The Baker to Vegas Cup Relay is the largest law enforcement race in the world. The Cup Relay is a 120-mile, 20-stage foot race which begins in Baker, California and finishes in Las Vegas, Nevada. The terrain begins at 400 feet above sea level and peaks at nearly 4,000 feet above sea level before descending into Las Vegas. This year's race presented extreme heat conditions for runners.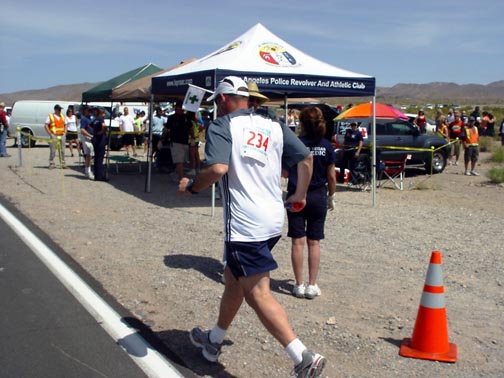 The Cup Relay is open to law enforcement agencies worldwide. Each year, hundreds of teams participate from agencies all over the world. The CDI team is nicknamed "The Fraud Squad." Its 20 members - CDI Fraud Division officers - are given the opportunity to demonstrate pride in their profession, organization and team.
This year the Fraud Squad completed the run in approximately 22 hours. The Fraud Squad was supported by a fantastic group of team members including Fraud Division investigative and professional staff, Fraud Division retired members and a number of cheering, encouraging family and friends.
###
Please visit the Department of Insurance Web site at www.insurance.ca.gov. Non media inquiries should be directed to the Consumer Hotline at 800.927.HELP. Callers from out of state, please dial 213.897.8921. Telecommunications Devices for the Deaf (TDD), please dial 800.482.4833.
If you are a member of the public wishing information, please visit our Consumer Services.